Back before the holidays, you might remember I was on orgasm restriction. I write about it now because at the time, there was so much going on and I just didn't have the emotional energy to invest in writing about
anything
.
The first week of my restriction was spent with Daddy tormenting me or making me torment myself. It was close to the holidays so if you missed that post, you can read about it
here
or if you happen to remember, I was only allowed a couple of inches of a particular dildo and at one point, I was given the same amount of His cock. An additional caveat to this was under no circumstances was my clit to be touched, not even accidentally while using the dildo.
Sheesh!! He's demanding isn't He?
Of course, my mouth stayed full of cock on a nightly basis and for the the first week, I stayed on an incredible edge, every minute of the day all I could think about the throbbing and the constant pool of wetness between my legs.
Somewhere during that second week, well, the edge just faded away. He continued using my mouth almost nightly but it's the same thing that tends to happen whenever my arousal is abandoned for too long. My body decides it's not getting any, so it
just...shuts...down.
. It's not like I am even angry or upset,
not yet anyways
. I think it's a way of coping and pushing my own desires aside so that I can remain focused on His needs and pleasure.
Then at some point (in this case it was around the end of the second week), sleep becomes more difficult, the stress of daily life builds up, and my resolve begins to crumble...
I begin to crumble
. Of course, the holidays were upon us as well which didn't help things either.
I try my best to hide the hurt when it starts creeping in, desperate not to let Him believe my submission is wavering. Retreating into myself, I get quiet until He forces it out of me. He knows what's wrong but makes me say it out loud anyways.
I can't help but wonder if you even want me anymore.
Of course He wants me. After all, He uses my mouth just about every night, doesn't He?
Being a wife and a slave are intertwined roles for me at this point, with the exception of this one area. As slave, I understand all of it. But as a wife, I struggle and the ache in my chest brings doubt. As we laid there and tears rolled down my cheeks, He snuggled with me and assured me of His desire to have me (all of me) and I will see just how much. I just had to continue waiting until the upcoming weekend. I beg Him not to make that type of promise because it always seems that things never work out for one reason or another. But He holds fast to His promise and in the back of my mind, I know better than to get my hopes up.
Well, it
WAS
the weekend before Christmas after all. There was a party to attend and one to host, food to cook, a house to clean, and while I worked on most of that, He had plenty of school work to keep Him busy. Through no real fault of His own, our time together didn't happen. There wasn't even time for any of my expected nightly cock worship. I tried once again to hide how crushed I was, particularly when He didn't say anything about our missed time together.
Monday night came and He climbed into bed giving me the signal to take my usual place of worship between His legs. As wrong as it was, I had already assumed and peacefully resigned myself to only servicing Him in the same way I had so many nights before.
Surprisingly, He told me to get my pants off and lay on my back, words that would normally make me get quite giddy. I wanted to be excited, really I did. But as He climbed on top and pressed inside of me, I couldn't find a way out of the hole I was in to give myself to Him completely. All the hurt and frustration was bubbling up to the surface and I was stuck in a terrible place...
in my head.
He could feel my resistance but didn't stop. He tried twisting and pulling my nipples. He grabbed my throat pinning me to the bed. He wrapped His fist in my hair, pulling my head back and ordered me to cum around His cock. Normally, any or all of these things drive me wild and send me over the edge, but it wasn't working this time. Nothing was working because
I wasn't letting it work.
I might as well have been behind the Great Wall of China.
We talked alot afterwards. He interpreted my actions (or lack of reaction to Him) as resentment. I tried to explain that it was simply hurt. Hurt that He hadn't acknowledged His broken promise over the weekend, and hurt that after weeks of not having Him, He seemed so cold. We went round and round until there was really nothing left to say. But my words left Him in a quandary.
Does He alter His actions, possibly allowing me to perceive that I have some level of control?
Or does He continue on in the manner that pleases Him and I adjust my expectations, if need be?
It was wise that He chose the latter because as luck would have it, He took me again a couple nights later...in the exact same way. And apparently, once the air had been cleared and I actually communicated all the crap floating in my head, I was just fine. This time when He gave the order to cum around His cock, my body responded to Him the way it should.
But just like I have a tendency to do, I hold on to things far too long, fearing that voicing the types of thoughts I have is somehow contrary to being truly submissive.
One of these days, maybe I will learn...but probably not.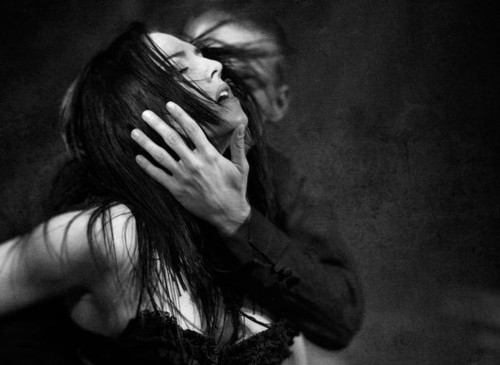 favim.com